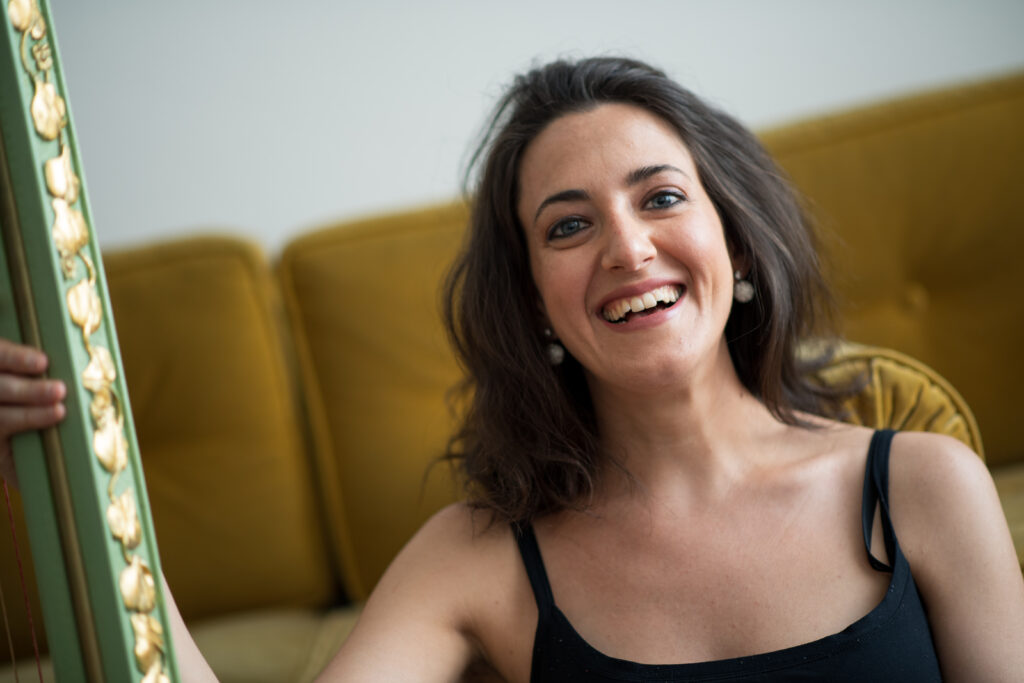 ---
Dal 2019 il Conservatorio di Latina ha attivato il corso di Arpa Rinascimentale e Barocca, una realtà nuova e unica nel centro Italia. Il corso si svolge principalmente sull'arpa doppia, lo strumento del repertorio napoletano e romano del Seicento, e mira ad approfondire la passi esecutiva dei secoli XVI, XVII e XVIII. Si rivolge ad arpisti di tutti i livelli ma anche a musicisti di altri strumenti o canto. Gli allievi saranno ammessi al corso propedeutico oppure al triennio accademico.
L'offerta formativa mira al conseguimento della laurea e alla creazione di professionisti capaci di lavorare in ogni ambito della musica antica dove l'arpa è sempre più richiesta, con particolare attenzione alla prassi di accompagnamento e basso continuo così come al repertorio solistico e all'improvvisazione.
Nata in Grecia, FLORA PAPADOPOULOS vive da molti anni in Italia, e attualmente a Milano. Si è diplomata in arpa moderna presso il Conservatorio di Parma con Emanuela Degli Esposti. In seguito, grazie a una borsa di studio della Fondazione Marco Fodella ha studiato l'arpa barocca presso la Scuola Civica di Milano sotto la guida di Mara Galassi, diplomandosi con il massimo dei voti. Si é laureata in Conservazione dei Beni Culturali all'Università di Parma e ha conseguito un Master in Musicologia presso l'Università Sorbonne IV di Parigi.
Ha un'intensa attività concertistica internazionale e collabora con orchestre e ensemble europei specializzati nell'interpretazione della musica antica, lavorando tra gli altri con Maestri quali Rinaldo Alessandrini (Concerto Italiano), Diego Fasolis (I Barocchisti), Christina Pluhar (L'Arpeggiata), Alessandro Quarta (Concerto Romano), Andrea De Carlo (Mare Nostrum), Francesco Cera (Ensemble Arte musica), Jean-Christophe Spinosi (Ensemble Matheus), Leonardo Garcia Alarcòn (Cappella Mediterranea), Skip Sempé (Concerto Stravagante).Con loro ha suonato in alcune delle sale più prestigiose del mondo, tra cui la Carnegie Hall di New York, L'Opéra Garnier di Parigi, Opéra di Versailles, Concertgebouw di Amsterdam, Tchaikovsky Hall di Mosca, Wiener Konzerthaus, Liceu di Barcellona, Beijing Center of the Performing Arts, ecc. Ha partecipato a registrazioni discografiche per Arcana, Erato, Brilliant Classics, Harmonia Mundi, Naïve, MDG, NDR, Radio Bremen, Glossa, Ricercar.
Con Mara Galassi ha in attivo un duo di arpe che tramite un attento lavoro di riscoperta di repertorio inedito e di trascrizione si dedica alla musica a cavallo tra il Seicento e il Settecento tra Italia e Germania. Con Lathika Vithanage e Noelia Reverte Reche ha fondato l'ensemble Il Caleidoscopio, col quale ha inciso un disco intorno agli Harp Consorts di William Lawes (Brilliant Classics 2016).
È membro dell'ensemble Laboratorio '600 di Franco Pavan e con Pino de Vittorio. Con loro ha inciso i dischi 'Occhi Turchini', e "Ninna Nanna" per Glossa. Pubblicato nel 2018 per la casa discografica Arcana il suo disco solista, intitolato 'Unwritten: Bach, Biber, Corelli, Marini, from violin to harp'', è stato premiato con cinque stelle dalla rivista Amadeus ed è stato presentato in numerosi festival in Italia e all'estero. www.florapapadopoulos.com
Flora Papadopoulos is a Greek-born harpist based in Milan, Italy. After completing her modern harp studies at the Conservatory of Parma with Emanuela Degli Esposti, she has dedicated herself to mastering early harps. With the assistance of a Marco Fodella Foundation scholarship, Flora has purcued her baroque harp studies with Mara Galassi at the Scuola Civica of Milan, obtaining her Masters degree with full marks. She has achieved a Bachelors degree with honours in Liberal Arts from the University of Parma, and a Masters degree in Musicology from the University La Sorbonne IV of Paris.
Her performing career includes both solistic and chamber music projects, as well as collaborations with several orchestras and ensembles all over Europe. She has worked with Conductors such as Ch. Pluhar (L'Arpeggiata), D. Fasolis (I Barocchisti), R. Alessandrini (Concerto Italiano), J. Ch. Spinosi (Ensemble Matheus), L. Garcia Alarcòn (Cappella Mediterranea), F. Cera (Ensemble Arte musica), A. De Carlo (Mare Nostrum), and many more. She has performed in prestigious concert halls including the Carnegie Hall of New York, Opéra Garnier of Paris, the Opéra of Versailles, Wien Konzerthaus, Concertgebouw of Amsterdam, Megaron of Athens, Tchaikovsky Hall of Moscow, Beijing Center of the Performing Arts and many more. She is part of Laboratorio 600, an italian ensemble founded by Franco Pavan and with Pino De Vittorio, specialized in the research of lost musical traditions of southern Italy. With them she has recorded "Occhi Turchini, songs of an island" and "Ninna Nanna" for Glossa. With her group, il Caleidoscopio , she has recorded an album around the Harp Consorts by William Lawes, produced by Brilliant Classics.
She has also taken part in many recording projects for Harmonia Mundi, MDG, Brilliant Classics, Glossa, Ricercar. With Mara Galassi she has a harp duo on historical instruments, exploring the different sonorities of harps in use during the 18th century. She recently released for the label Arcana Outhere her first solo album named Unwritten : Bach, Biber, Corelli, Marini from violin to harp. The recording has received the highest praises of critics and was presented in International Festivals around Europe.